A few weeks ago, I did a poll on Twitter asking my followers whether they'd prefer to see monthly favourites posts, or just one post at the end of the year rounding up all of my favourites throughout 2018. You can probably guess what the results were! And what better day than Valentine's Day to share my love for these products, eh!? (This post was supposed to go up last week, but ssshh.) If I'm being completely honest, though, I doubt I'm going to be able to do different favourites every single month. I just don't really buy or try enough new stuff. I think what I'll do is publish a post if I had at least three favourites that month and otherwise I'll squish two months into one post, sound good? Okay, on with the post, then!

Fun fact: I'm not really a hand cream person. I don't think I've ever used a hand cream in my life. Until now, that is. I have to admit that the only reason I initially bought this product was the scent: I'm absolutely in love with it! We only have a handful of Zoella Beauty products available here in Belgium (boo!), and this is by far my favourite. Okay, so I haven't really bought and tried any of the others products (yet), but scent-wise this one wins hands down. You really only need a tiny amount as well; I'm talking pea-sized or less! Otherwise your hands will just get greasy and the product will take longer to fully sink in. This is great though, because 1) this just means the product is, indeed, very moisturising and 2) it will last you longer because you don't need to use a tonne of product. Win-win, in my eyes.

I'd been talking about trying a face mask for a very long time when I saw this product in one of our local stores. Now, don't get me wrong, I'd looked at face masks before, but always decided against purchasing because 'when am I ever going to use it?' And then, for some reason, when I bumped into this one something clicked and the question changed – how will I ever be able to give face masks a try if I never actually buy any? So I did. I didn't really expect any life-altering epiphanies, but boy did using a face mask for the first time change my life. My skin felt super smooth and soft after I used it, and I don't think I can ever go back to my no face mask days. I'm officially converted.

This product was recommended to me by Ella back in December, when we met each other for the first time. I love me a good body scrub because it makes my skin feel silky smooth afterwards, so when she mentioned that & Other Stories do them, she's used them and she loved them – I was basically already sold. The scent of this product is divine. I honestly suck at describing scents, but it's a sweet flowery scent that's very subtle but oh so nice. I just feel like a newborn baby after I've used this in the shower (is that weird?), and nothing can really top that.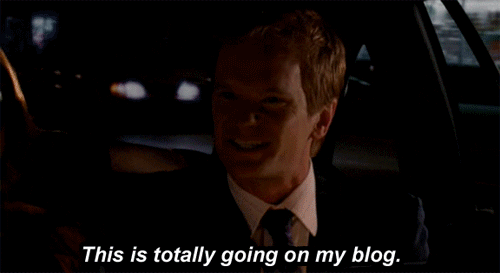 My boyfriend and I started binge-watching this tv show about a month ago and I'm obsessed. Not a day goes by without watching at least one episode (okay, two)! It's very easy to watch, no need for full concentration at all times and it's actually funny, too. I also love that every episode is only about 20 minutes – you can easily watch three (or six) in a row. We're currently halfway through season 7 and I honestly can't get enough. In fact, our Valentine's Day 'date' is probably just going to be us watching about a dozen HIMYM episodes – and I ain't even mad.

It's crazy to think that at the end of 2017 I'd never used a face mask in my life, and only about a month and a half into the new year I'm already including two in my monthly favourites post. I was first introduced to this product through a sample that my mum bought me along with a The Body Shop gift card (she knows me so well), and since I'd already bought my first face mask by that time I was really excited to give this one a go. And let me tell you, it did not disappoint. This product is a godsend. It does smell a bit funny, but it works wonders. I also look a bit like a yeti when I've put it on, so that's definitely a bonus if you want to make yourself and/or others laugh.

So those are the products I was loving all throughout January (and am still loving now, too)! Have you tried any of them? I'd love to know your thoughts in the comment section down below.